Bhakti Center's 6th annual Diwali Fest – Date 12th Nov 2023.
=> Here are *resource links* for the event date — you can keep the tinyurl's for future reference!
Gaura Arti web page  or  download Gaura_Arti pdf  [tinyurl.com/gaurayc]
Damodarastakam web page  or download Damodarastakam  pdf   [tinyurl.com/damodaryc]
YouTube livestream  ->  https://www.youtube.com/@TheTempleatBhaktiCenter
Link to Event Brite page  |   Bhakti center post on Diwali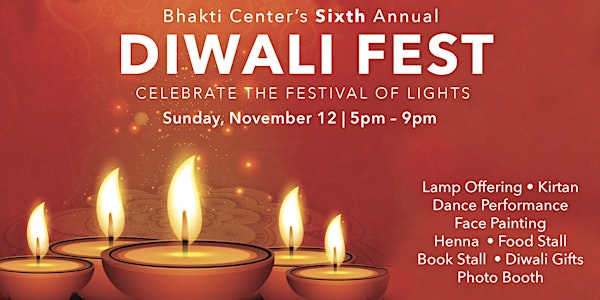 Celebrate Diwali in the heart of Manhattan with dazzling lights, vibrant music, delicious food, and joyous festivities!
Schedule
4:45 – Doors Open
4:45 – Welcome Kirtan
5:00 – Interactive Diwali Storytelling
5:15 – Ram Bhajan
5:30 – Classical Indian Dance
5:45 – Special Guest: NYC Mayor, Eric Adams
6:00 – Maha Mantra Kirtan
6:30 – Special Evening Aarti
7:00 – Evening Kirtan
7:30 – Talk on Significance of Diwali
7:45 – Classical Indian Dance
8:00 – Sita Ram Bhajan
8:25 – Lamp Offering by All Guests
8:45 – Dinner Prasad
(* Food stalls open 6:15pm)
This page is accessible at:   tinyurl.com/diwalibc
Yogachanti is proud to support and be a part of the Bhatki Center annual Diwali fest celebrations!